Original Article
Open Access
Market orientation and corporate social responsibility: towards an integrated conceptual framework
Mahmoud Abdulai Mahmoud

1

Email author

,

Charles Blankson

2 and

Robert E. Hinson

1
International Journal of Corporate Social Responsibility
2017
2:9
Received: 26 July 2017
Accepted: 1 November 2017
Published: 22 November 2017
Abstract
The aim of this study is to develop a comprehensive framework and propositions showing the integration of market orientation (MO) as an economic-oriented strategy and corporate social responsibility (CSR), as a socially–oriented strategy for business performance (BP). A review of literature on the three constructs of MO, CSR and BP facilitated the development of the framework and a number of research propositions. An integrated conceptual framework of economic and social strategies is constructed based on prior conceptualisation of MO and CSR. In total, twenty-six (26) propositions are developed based on the integrated conceptual framework. An empirical examination of the model will clarify further, relations among the variables and then authenticate the developed model and propositions. The study provides practitioners with a framework and the accompanying propositions for decision making with respect to their strategic choices and performance. The conceptual framework and the proposition developed when implemented are expected to enhance both the firm and customer value which has a wider implication for the society. The novelty in this research is the common antecedents of both MO and CSR. This research augments the few studies on the integration of MO and CSR.
Keywords
Market orientationEconomic strategyCorporate social responsibilitySocial strategyBusiness performanceFrameworkPropositions
Introduction
A growing number of scholars and practitioners are calling for attention to be given to the integration of market orientation (MO) and corporate social responsibility (CSR) for competitiveness (Brik et al. 2011; Mitchell et al. 2010; Qu 2009). Despite the prominence of MO and CSR, previous scholarships on the two constructs have focused on the individual strategic constructs and their impact on organisational performance to the neglect of their integration (Mitchell et al. 2010; Grinstein 2008). Thus, Grinsatein (2008) advised that research on MO should shift its focus. According to Grinstein (2008), researchers should move from the study of the direct effect of MO on business performance to the study of the various combinations of strategic orientations that firms can pursue in different situations. Researchers are encouraged to study how the more successful market-oriented firms balance between MO and other strategic orientations (Grinstein 2008; Mitchell et al. 2010). A number of scholars have responded to this call in the extant MO literature (Yan et al. 2017; Felix 2015). Relatively, some research works have been done on the integration of MO – CSR - performance relationship but more research is required to highlight the phenomenon (Brik et al. 2011; Qu 2009).
Scholars have suggested the benefits of integrating MO as an economic strategy with CSR as a social strategy (Mitchell et al. 2010; Mohr and Sarin 2009). For instance, it is argued that the pursuit of both economic and social strategies simultaneously would not be harmful to the operations of a firm (Mohr and Sarin 2009). On the bases of the above argument, this study is set out to develop a comprehensive conceptual framework and propositions that guides the integration of MO and CSR for BP. In this regard, the key question that needs to be answered is whether there are sufficient frameworks that project the integration of MO as an economic strategy and CSR as a social strategy leading to business performance in extant marketing and management literature?
The paper contributes to marketing theory in three ways. First, it proposes a comprehensive business framework integrating MO and CSR for BP. Limited frameworks exist on the integration of MO, CSR and BP (Brik et al. 2011; Morgan et al. 2009; Grinstein 2008; Maignan and Ferrell 2004; Maignan et al. 1999; Morgan and Strong 1998). Second, we propose common determinants of MO and CSR, which to the best of the researchers' knowledge, have never been proposed in the extant marketing literature. To buttress this position, reference is made to Kuada and Hinson's (2012) argument that the antecedents to CSR exert different degrees of influence on the CSR practices of firms in different parts of the world. They argue further that these antecedents have not been adequately articulated and integrated into the available analytical models.
Third, the conceptual framework and the propositions from the research is significant for management researchers and practitioners. Employing the theorised framework and propositions will allow scholars to offer relevant advice on the likely outcomes of integrating MO and CSR across firms of varying backgrounds. The remainder of the paper is presented as follows: the conceptual framework and propositions are discussed next and this is followed by the discussions and implications. The conclusions and directions for future research bring the paper to a close.
Literature review and conceptual framework
In the conceptualisation of market orientation (MO) and corporate social responsibility (CSR), researchers often theoretically or empirically investigate their antecedents or predictors and consequences or outcomes (Galbreath
2010
; Zebal and Godwin
2011
; Kocak et al.
2017
). The proposed integrated conceptual framework for this study has five major components (
see
Fig.
1
).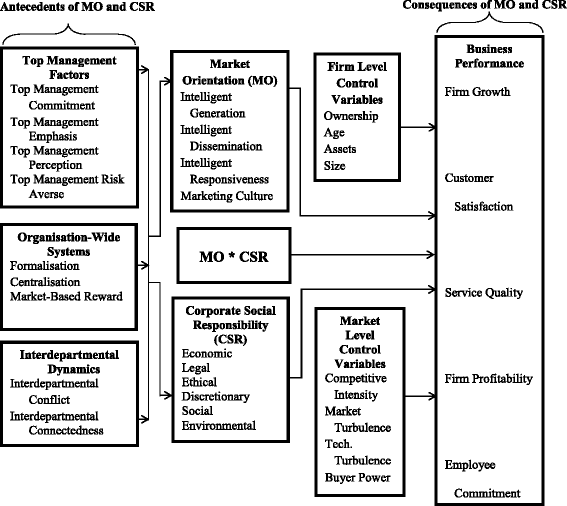 Hult et al. (2005) established the value of the information processing perspective to market orientation. Market orientation is defined as the extent to which a firm engages in information generation, dissemination, and response to market intelligence pertaining to current and future customer needs, competitor strategies and actions, channelling requirements and abilities, and the broader business environment (Morgan et al. 2009). Inspired by the traditional resource-based theory, the literature posits that firms with superior MO achieve superior business performance because they have a greater understanding of customers (Lafferty and Hult 2001).
There has been a general agreement in the literature on the key components of MO: market intelligence gathering and the synthesis of market information to develop and implement competitive, profitable marketing strategies (Cano et al. 2004; Cervera et al. 2001; Greenley et al. 2005; Kirca et al. 2005; Kohli and Jaworski 1990; Lafferty and Hult 2001). MO should focus on the integration of a firm's capabilities to generate long-term profitability, maintain or increase market share, improve firm competitiveness, ensure organisational responsiveness in providing customer value and satisfaction, and meet strategic corporate targets (Mitchell et al. 2010).
With respect to CSR, Whitehouse (2006) opined that despite several decades of vociferous debate regarding the concept of CSR, it is possible to say, with certainty, that there exists no one universally accepted definition of the term. Lantos (2001) is of the view that the concept of CSR is a fuzzy one with unclear boundaries and debatable legitimacy. While academics continue to debate the content and meaning of CSR, many large companies appear to have found common ground upon which they have constructed elaborate CSR policies and practices (Whitehouse 2006).
Carroll's (1991) classification of CSR was modified to include social and environmental dimensions (Mitchell et al. 2010) to conceptualise corporate social responsibility in this integrated framework. Carroll (1991) provides a clear view of business responsibility and repeats these four dimensions in subsequent articles (Carroll 2000; Schwartz and Carroll 2003) to underscore the importance of this classification in future CSR studies. Hence, the adoption of Carroll's model. Consequently, from the basis of Carroll's (1991) conceptualisation, CSR has been defined by Maignan et al. (1999, p. 459) as "the extent to which businesses meet the economic, legal, ethical and discretionary responsibilities imposed on them by their stakeholders". This definition is in line with the four dimensions of CSR proposed by Carroll (1991), which is still recognised by contemporary researchers (Maignan et al. 1999; Maignan and Ferrell 2004; Pirithiviraj and Kajendra 2010; Galbreath 2010). These six dimensions of CSR adapted for this study are considered appropriate to investigate CSR in order to address the accusation against marketing scholars for their narrow focus on the dimensions of CSR (Maignan and Ferrell 2004; Porter and Kramer 2006).
Propositions
The three major hierarchical dimensions of top management factors, organisational systems and interdepartmental dynamics proposed by Kohli and Jaworski (1990) and Jaworski and Kohli (1993), which have been used widely in the market orientation literature, are employed in this study. However, the present study extends strategic marketing knowledge by postulating that these factors are equally determinants of CSR. The proposed integrated conceptual framework suggests the measures can be used to assess the firm's level of MO and CSR activities and initiatives.
Control variables
Narver and Slater (1990) show that the marketing strategy literature places considerable emphasis on eight situational variables that may affect business performance. The control variables are potential variables that are capable of influencing firm performance, rather than the identified variables. For instance, technology and organisational size are potential factors that can influence firm performance, other than MO and CSR. As with other studies in the strategic marketing literature, these situational variables are controlled in analyzing the effects of the interaction of market orientation and corporate social responsibility on business performance in this conceptualisation. The study posits that apart from the interactive effects of MO and CSR, there are other variables that can impact on an organisation's performance. The control variables considered in this study are broken into two main groups: market-related control variables and firm-level control variables (Narver and Slater 1990). Some of the market-related control variables considered in this study, as shown in the conceptual framework, are technology, the general economy, competitive intensity, and market turbulence and buyer power. The firm-level control variables include ownership, age, assets and size of the firm. With the components of the conceptual framework having been presented and explained above, the next section provides the discussions and managerial implications of the conceptualised model.
Discussions and implications
Prior researchers have largely not focused on how management factors, interdepartmental dynamics, and organisational systems impact on MO and CSR simultaneously (Aguinis and Glavas 2012). Aguinis and Glavas (2012) and Kuada and Hinson (2012) opined that the investigation into the predictors or antecedents on corporate social responsibility is scanty. This calls for scholars in marketing to research into the factors that can influence MO and CSR simultaneously in an organisational setting. In this competitive era firms cannot survive on a single strategy (Grinstein 2008; Brik et al. 2011; Mitchell et al. 2010; Blankson et al. 2013; Han et al. 2013). This phenomenon is encouraging firms to integrate economic and social strategies in contemporary times in the business environment. Drawing from resource-based perspectives both market orientation and corporate social responsibility have been viewed as corporate resources for business performance (Morgan et al. 2009). In this sense, in an industry where the level of market orientation and corporate social responsibility are low, firms that are market-oriented and socially responsible should experience high business performance than rival firms in such industries (Qu and Ennew 2007).
Managers' skills in initiating and implementing market orientation and corporate social responsibility initiatives could serve as intangible resources that propel the performance of their organisations. Moreover, if these initiatives are valued by the target market, as part of the conceptualisation theoretical contributions a model of significant factors determining market orientation and corporate social responsibility was developed. The unique feature of this model is the common predictors of both market orientation and corporate social responsibility in an organisation. This claim needs to be further interrogated by future researchers. For practitioners, these findings suggest that organisations ought to view corporate social responsibility and market orientation as a complementary strategic choice by managers rather than as two separate strategies that compete for organisational resources. These findings are particularly important in the context of a developing economy in which practitioners might be skeptical in implementing western theories in their businesses (Osuagwu 2006; Appiah-Adu 1998). This assertion is based on the assumption that CSR hitherto was regarded as incompatible with market strategies like market orientation developing economies because of the absence of strong institutional support for CSR and the presence of weak and ineffective laws to guard against unethical practices (Atuguba and Dowuona-Hammond 2008). Foo (2007) is of the view that CSR activities may put service firms at a competitive disadvantage vis-a-vis their competitors and as they might resist its adoption.
Also, implementation of firm market orientation and corporate social responsibility is a critical issue requiring much more attention from practitioners (Voola and O'Cass 2010). Management inaction in integrating economic and social strategy into the corporate strategy could be harmful to the competitiveness of service firms. Management knowledge about their target market perceptions regarding their economic, social, ethics, philanthropic, and environmental performance are important for firms in the marketplace (Jaworski and Kohli 1993: Carroll 1991). Inadequate knowledge is detrimental to firm operations. Corporate reputation is derived from stakeholders' perception of firm performance in the economic and social strategies they pursue. Affection for firms' products and services, as a result of it, is prudent economic and social strategies which then translate into more patronage for its services. In terms of social strategy, firms that are perceived to fulfill stakeholders' demands, for example, paying shareholders dividends, settling tax obligations to the central government, donating to the community in terms of their needs are in a better position of gaining competitive advantage over their rivals. Firms that do well economically, socially, ethically, and legally, are likely to enjoy profits in the long-run. Conceptually, firms are better of with high CSR and MO initiatives relative to low MO and CSR. It is important to note that, the level of economic and social strategies exhibited by firms will indicate where the firm will be in terms of these interventions and their relationship to performance (Porter and Kramer 2006; Qu 2009; Brik et al. 2011).
Conclusions and direction for future research
This conceptualisation has contributed to the limited studies in the scholarly literature on the integration of market orientation and corporate social responsibility (Qu 2009; Brik et al. 2011; Mahmoud and Hinson 2012a, b, Hinson and Mahmoud 2011). The study has conceptualised a theoretical link on the integration of MO, CSR and business performance. This framework could be applied by firms to enhance their business performance or competitiveness. The conceptualisation has also suggested predictor variables of corporate social responsibility similar to that of market orientation. These measures depart from the use of traditional measures of size, income, origin of firms and external pressure as factors of engagement in CSR activities (Kuada and Hinson 2012). This study offers an opportunity for appropriate strategic marketing development in the several industries and enables managers of these institutions to identify the appropriate blend of market orientation and corporate responsibility for superior business performance.
Haugland et al. (2007) encouraged researchers to elaborate on the role of market orientation and other strategic orientations. The literature on market orientation and corporate social responsibility in developing economies is now growing and therefore this conceptualisation will aid in building and enhancing the literature on predictors and integration of market orientation, corporate social responsibility and organisational performance.While this study supports the integration of market orientation and corporate social responsibility for superior business performance, other strategic variables might be appropriate than the two constructs proposed in the framework. This paper provides an opportunity for future inquiry into other variables.
Marketing scholars are recommended to explore further the integration of MO and CSR in both the private and public by adopting/adapting the conceptualised and the hypotheses presented in this study. This will best help inform policy direction for the businesses economic and social interventions. Either single-industry or multiple - industry study could be employed to maximise the generalisability of the integration of MO and CSR. The study provides an opportunity for further studies to consider examining the common factors driving market orientation and corporate social responsibility simultaneously in different industry settings. Changes in the market characteristics, our understanding of competitive behaviour and advances in management theory and conceptualization development can limit the applicability of the proposed conceptualization and hypotheses (Darroch, et. al 2004). Despite these shortcomings, it is the conviction of the researchers that the conceptualisation puts forward will stimulate a conversation among marketing scholars about the potential hazards of strategy myopia and the benefits of strategy integration for the marketing discipline (Davis et al. 2013).
Declarations
Acknowledgements
We will like to acknowledge the following institutions for their support in developing this manuscript. These are:
University of Ghana Business School.
University of Ghana Carnegie Next Generation of African Academics Project.
BANGA Project, University of Ghana.
Authors' contributions
Authors contributed equally to the development of this manuscript. All authors read and approved the final manuscript.
Competing interest
The authors declare that they have no competing interests.
Publisher's Note
Springer Nature remains neutral with regard to jurisdictional claims in published maps and institutional affiliations.
Open AccessThis article is distributed under the terms of the Creative Commons Attribution 4.0 International License (http://creativecommons.org/licenses/by/4.0/), which permits unrestricted use, distribution, and reproduction in any medium, provided you give appropriate credit to the original author(s) and the source, provide a link to the Creative Commons license, and indicate if changes were made.
Authors' Affiliations
(1)
Department of Marketing and Entrepreneurship, University of Ghana Business School, University of Ghana, Accra, Ghana
(2)
Department of Marketing and Logistics, University of North Texas, Denton, USA